RV-12iS Group Build Project and Flying Club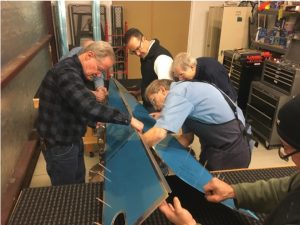 The RV-12iS build project taking place in the chapter hangar is running full steam! Chapter members are making great progress.  The empennage and tail cone are complete.  Work on the forward fuselage is nearing completion.  Work on the wings will begin in April. Estimated completion is spring 2020.
Stop by Twin Oaks, hangar G1 and see how the team is progressing.  Build days are every Thursday and Sunday.  There's also an open house during the EAA 105 pancake breakfast (the first Saturday of every month).
There are no more spaces available for co-ownership. Once the airplane is completed, the twelve co-owners will form an independent flying club based at Twin Oaks. Opportunities for fractional ownership may become available from time to time.  This is a cost effective way to own an airplane owner! If you're interested, contact Peter Stack at peter@incstack.com or 503-805-3304.