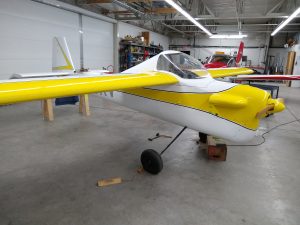 Traditionally, we don't hold a chapter meeting in July. It's a great time to stay busy with flying and all the terrific events available in the area. But this year we have a special opportunity to take a look at a unique, historical airplane as it's being restored. Back in the 1970s EAA 105 members helped build the one and only RV-5. It has not flown for many years, but is now in the final stages of restoration and will be making the trip to Oshkosh next week.
Chapter members are invited to drop by the Van's Aircraft factory hangar on Thursday evening this week any time after 5pm to check out the RV-5 airplane. The team will have a work party taking place, and needs to stay on task to meet their completion deadline, but they're welcoming everyone to come check out this unique piece of Oregon homebuilding history, especially given the fact that EAA 105 members were involved in its original construction.
You may fly in and park on the Van's ramp, or drive over and park out front in the Van's parking lot. They will leave the front door open and we'll do our best to make sure someone can guide people back to the shop.
What: RV-5 restoration project visit
When: Starting at 5:00 p.m., until we're done
Where: Van's Aircraft factory hangar, Aurora State Airport
Address: 14401 Keil Rd NE, Aurora Oregon 97002
Since this is a project visit, we don't have a formal meeting agenda. We'll get to hear from the folks performing the restoration and ask questions, of course. If there's work to be done that people are familiar with, there may be opportunity to help – but that will be determined at the time by the project team. We are not planning for dinner at this project visit. You may feel free to bring snacks to share, if you wish.