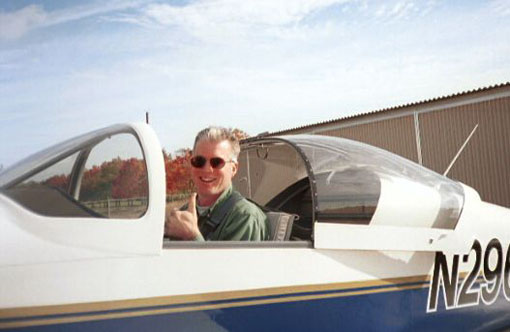 After landing, I also discovered that some fasteners were missing from the junction of the upper and lower cowls behind the spinner. This was just an oversight caused by too much focus on examining what was inside the cowl and not enough on pre-flighting the cowl itself. Fortunately there were no bad consequences from this mistake.
For the record, N296DB is somewhat of a fat-boy, coming in at 1126# empty. It has an 0-360 with constant speed Hartzell, and Airflow Performance fuel injection. The panel is full IFR with a single axis autpilot. The weight also includes paint, leather seats, and a full interior. Building time was 5 years and 3 months.
Like most who reach this stage, I owe lots of thanks to Van and his staff, all my friends in the Home Wing, and most of all to my wife. Though building is mostly a solitary activity, it wouldn't have been fun or successful without the support of those key people.