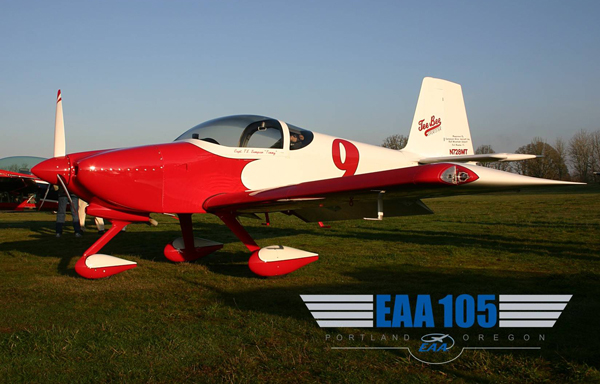 After 23 months and 1700 hours of construction by Martha and me, a "slow build" RV9A, Vans serial number 90535 / N728MT, went airborne in July of 2006. "Tango" is a wonderful aircraft that performs almost as well as Van designed. Coupled with a few custom tweaks and personal touches it provides us with the results that will give us years of enjoyment.
It's true, an average guy with a few basic skills can get very good results. Up to the point of beginning the project my three biggest questions had been: can I focus on a project of this magnitude for an extended amount of time; do I have, or can I learn, the skills needed to complete the project; can I seek and find assistance if I need it? (a.k.a.…Am I willing to ask for help? A successful project… from plywood boxes to flight… requires all 3!
Help and Custom Touches
Along the way (being first time builders) we also chose to get some extra help, and did a few things differently vs the more mainstream construction...
We bought a Larry Vetterman exhaust like for the RV10. Ours was the RV9 prototype. We get lots of comments on how quiet the motor is.
We originally installed dual throttle quadrants, and subsequently removed the left hand one … as I was able to make the transition to right hand throttle and left hand sticking seamlessly.
We installed RV10 taxi vents below the NACA fresh air vents as we did a tip up…and they have made the hotter weather easier to handle with a nice breeze at the knees.
We hired Greg Howard at Pearson in Vancouver to build the wiring harness for both Dynons, radio, transponder, and altitude encoder.
We installed the EXP Bus from Vans. It has all solid state circuit breakers, and a neat annunciator panel that visually monitors all electrical circuits.
We got our strobe lights, strobe driver box, and LED-Nav lights from CreativeAir. The tail strobe/Nav light we obtained from Vans.
After designing and cutting the panel, we powder-coated it to match the interior, plus reverse engraved placards for all switches.
We enlisted the help of Leighton Mangles, "Mr. Lancair", because of his fiber glassing expertise.
BOTH Dynons, Pitot and advice came from Tony at SafeAir1.
Paint Scheme? Danny at Twin Oaks managed the painting for us. While building, you'll get inspirations AND change your mind a BUNCH. Use the Vans diagrams to sketch your ideas, and take your digital camera to fly-ins. Our RV9a paint was inspired by the 1932 GeeBee Sportster that we first saw at the MMV Flight Museum, and I had it in my mind from the very beginning.
The Two Most Frequently Asked Questions are… Are you a builder or a flyer? I am BOTH! You also hear this question as if there were two real choices to make, and one was made to the exclusion of the other. We accomplished our 1700 hour build process in just under 24 months, and this included 18 idle weeks because we didn't plan the kit segment arrivals well. And…while we were building, we didn't own another airplane to fly. I probably logged 25 total flight hours during the build process. The second most frequently asked question is... Would we do it again? Would we go through the agony, doubt, mistakes, re-do's, and lack of confidence? You bet, in fact we've already started an RV-7A.